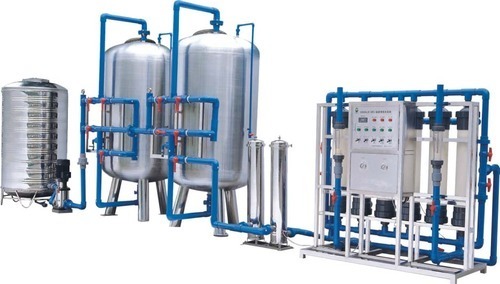 Mineral Water Treatment Plant
Product Code : industrialmineralwaterplant
Product Description
In our mineral water treatment plant, unclean water is prepared and changed over into drinkable and unadulterated water for use in sustenance and refreshments industry, drinking water supply, and so on. Our Plant has programmed start and different capacities controlled by an exceedingly clever PLC framework. Inventive assurance framework is inbuilt in our mineral water treatment plant to remove the entire framework when it experiences any deficiencies amid the activity. Hardened steel development of our plant gives quality and utilitarian solidness to the entire structure.
This mineral water plant contains:
Activated Carbon Filtration
Chlorine Dosing system
Multi Media Filtration
Ozone Disinfection
Reverse Osmosis
Stainless Steel Storage Tank Micron Cartridge Filtration (0.2 Micron)
Ultra Filtration (Optional)
UV Sterilization
Water Softening

Expanding interest for drinking water on a single hand, and lessening nature of the nature water on the other, oblige business to take new quantify in the treatment of water and in numerous nations to tap the salty water.

To guarantee the nature of our mineral water plant, 2 plans and introduce turnkey framework joining the parts, segments and equipment. 2 offer a solitary helpful hotspot for all framework accessories, Including pretreatment, sterilization and Filtration of Water.

Our business has demonstrated mineral water plant. It has an expansive procedure learning base and selects the required procedure framework. Deliver Drinking water/Mineral water from an endorsed source; meet all the government and state gauges. A Scope of Framework sizes are accessible to coordinate your packaging needs. Filtration framework comprises of filtration and disinfectant. Our company can introduce and design inventive framework to create most astounding nature of mineral water plant.

We can offer framework including sealing, filing and packaging line on Turn - Key premise.
Hefty, small and medium plants.
Aquifer recharge.