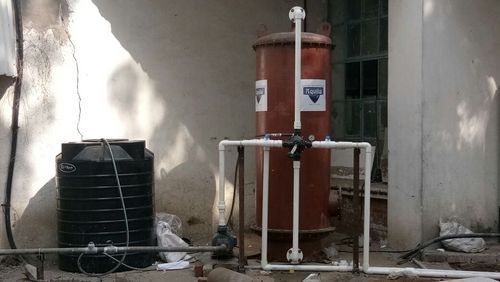 Commercial Water Softener
Product Code : water-softening-plant
Price And Quantity
Unit of Measure

:

,
Product Description
Commercial Water Softener is used for minimizing scaling deposition in boilers, reverse osmosis technology based water purifiers, laundry equipment and dishwashers. This type of water softener uses control valve technology to ensure higher flow of water per minute. Application of this water softener not only improves performance of processing systems, but also helps to minimize their maintenance cost. Moreover, softener helps to reduce cost associated with detergent and chemical application. Simple to install, this commercial softener has long working life. Cost effectiveness, precise shape and accessibility in different specifications are its main features. We are a reliable exporter and manufacturer of Commercial Water Softener.
Features :
High efficiency.
Application of control valve based technology.
Ergonomic design.
Useful for reducing scaling in boiler and RO purifier.
Magnesium and calcium particles that induce water hardness can be evacuated decently effortlessly by utilizing a particle exchange method. Our water softener plant is cation exchange instrument. Cations allude to emphatically charged particles. The exchange includes the supplanting of the hardness particles with a anti-hardness particle. The plant normally uses sodium as the exchange particle. Sodium particles are provided from broke down sodium chloride salt, additionally called saline solution. In the particle exchange process, sodium particles are utilized to coat a medium in the conditioner. Moreover, the exchange medium can be characteristic "zeolites" or manufactured tar beards that look like wet sand.

As hard water goes through our water softener plant, the magnesium and calcium exchange places with sodium particles that are held freely and are effortlessly supplanted by magnesium and calcium particles. Amid this procedure free sodium particles are discharged to the water.

Softening Procedure :
Subsequent to softening an extensive amount of hard water the exchange medium ends up covered with magnesium and calcium particles. When this happens, the exchange medium must be revived or recovered. To revive the conditioner with sodium particles, our water softener plant is back flushed with a salt brackish water arrangement. Amid a back flush, the brackish water arrangement replaces the magnesium and calcium particles on the medium with sodium particles from the salt arrangement.

Recharging Procedure :
The time between recharging courses relies upon the hardness of the water, the measure of water utilized, the extent of the unit, and the limit of the exchange media to evacuate hardness.